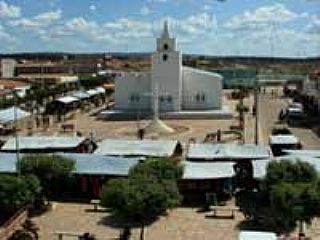 Have you any idea of where the pictures above were taken? Well, considering the title of this post, probably yes! Today, I´m not posting. Felipe Maruf Quintas is! Felipe is a Basic 3 student at Itaipu Branch. Incentivated by his teacher Cléo, he decided to contribute to our blog by writing about his last holidays in Piauí. Thank you Felipe! And here is your story:
Last holidays, I went to Queimada Nova, in Piauí. I went there on foot. I walked very much, but I am Brazilian and I never quit. I travelled with my neighbourhood. More than 50 people were with me to Piauí. It was great, but less dangerous than if I was alone there.
In Queimada Nova, we saw misery, but we saw beautiful scenes because the Brazilian backwood is wonderful, except the people. They are poor, starving, sad. Seeing all of them, we almost cried (some people have done it), but I know it isn´t because we wanted. In this city, we walked around the little city, and we gave food to the people. They were very happy, because nobody cares about them.
We didn´t have a car, so we did it all on foot. We found a waterfall (it´s a miracle!). There wasn´t anybody there, only us. We took a shower and we had delicicous moments of lust, lust for freedom, for the nature.
Later, we decided to go back to the city. It was night, and we didn´t have a comfortable place to sleep or stay, or some water and food to drink or eat. Our provisions were finishing, but we resisted, despite the complaints. This was very uncomfortable, we didn´t used to it. In the next day, some people decided to go back to Niterói, regreted of travel.
In my opinion, the trip was good. I learnt many things about Geography, History, Sociology and Brazilian popular culture (listening to songs and blind stories). I saw some of many faces of a same Brazil. I went back very tired, but it doesn´t matter now.
*****
Izabella Sepulveda
(Itaipu)